Threesome (2011)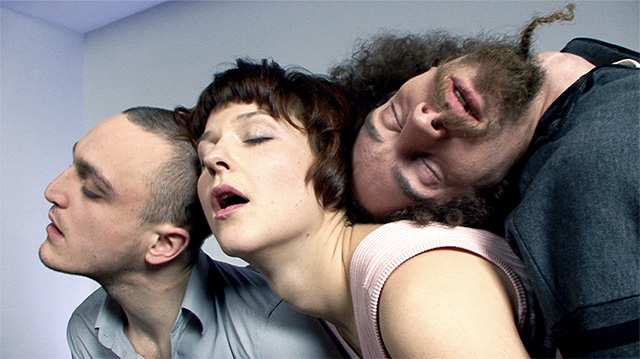 While Stefan and Paul relax sipping their cocktail, Ann-Kristin gets cosy on her couch. "Some company wouldn't do any harm," she considers, and in doing so she thinks of Stefan. He and Paul are watching Friends in the Bermuda Bar, when suddenly Stefan's phone rings. It is an invitation from Ann-Kristin to come over. Stefan does not contemplate for long and asks Paul to join him. Ann-Kristin is happy about the visit of the two men. Kindly she invites them to join her on the couch, where they gradually get closer to one another…
Pornsites are the most clicked websites ever. Is porn the answer to our unmistakable need for physical contact or just one of its aspects? In any case the physical touch forms the center of Threesome. The film explores what comes across as the phenomenon porn and observes it in its very own way.
Threesome won the promotional award at the Kurzfilmtage Winterthur 2011.
Trailer

Duration: 10 min.
Image: Colour – 16:9 anamorphic
Sound: Dolby Digital 5.1
A Banality Dreams/Authentic Boys production.
Directed by Johannes Dullin
Ann-Kristin: Signe Holtsmark
Paul: Jorma Spitz
Stefan: Franz Rogowski
Director of photography: Boris van Hoof
Camera: Boris van Hoof, Aaike Stuart
Editing: Aaike Stuart
Light: Jan-Paul Gauly
Sound recordist / sound editor: Martin Ruch / Weltschall
Sound re-recording mixer: Bart Jilesen
Mixed at: Bart Jilesen / Soundpalette
Production management: Raliza Nikolowa
Thanx to: Sebastiaan Verhees, Konsumat, Bermuda Bar, Rocko Sunset, Bugen Drönker