REHEARSING REVOLUTION (2011-2014)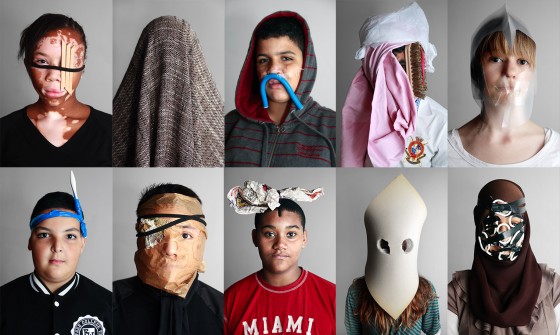 In Rehearsing Revolution, for hundred minutes the Authentic Boys take secondary school pupils along in a light-hearted experiment, in which their 'revolutionary potential' is tested. Completing a performative course and answering questions lead to radical and uncompromising choises, whereby the focus is on rebelling against personal habits and limits. Over 500 students between the ages of 13 and 18 took part in the first edition of the project in TENT Rotterdam.
THE NEXT EDITIONS OF REHEARSING REVOLUTION WILL TAKE PLACE HERE:
28 APRIL – 16 MAY 2014
NYON
IN COOPERATION WITH FAR FESTIVAL
7 – 13 JULY 2014
BIRMINGHAM
IN COOPERATION WITH FIERCE FESTIVAL
2015
BERLIN
IN COOPERATION WITH HEBBEL AM UFER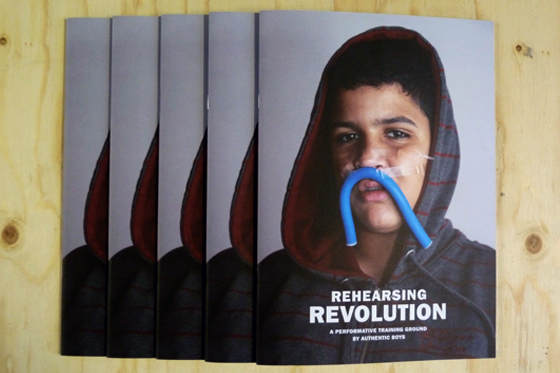 The photo series 'Rehearsing Revolution – a performative training ground' shows a selection of the portrait photos that were taken during the project in Rotterdam. The disguises were made by the pupils themselves in just a few minutes.
GET THE REHEARSING REVOLUTION PUBLICATION (€10,- + shipping) BY WRITING US AT
MAIL@AUTHENTIC-BOYS.COM
Photos: 50×75, photoprint on dibond
Publication: A4, 51 pages
ISBN 978-94-90309-00-8
2012, in cooperation with TENT.Rotterdam
More on social and educational projects by the Authentic Boys on www.performing-life.com.