Happyland evokes visions of paradise found, of a wonderful place drenched in joy. Through five groups of travelers in five versions of contemporary promised lands, the work probes the depths beyond the glossy surface of vacationing. Martyrs, folklorists, enlightened, idealists and devoted, Authentic Boys dove into these characters from touristic subcultures, literally following in their footsteps to create a fiction of holiday bliss.

In the video installation, projections and monitors are integrated in spacial scenographies, which can, in the tradition of holiday fairs, be entered by the visitor. The subtle soundtrack of each video contributes to a common, musical landscape in the space.

Happyland premiered in the summer of 2014 at Bâtiment d'Art Contemporain in Geneva and ran six weeks. The exhibition included a series of events, like guided tours through the city and holiday-slide-nights.
Trailer

The Folklorists
Three sunburnt folklorists are celebrating their roots next to their mobile home.

A totem-like sculpture holds a fridge, a monitor and two paintings. The men in the video start dancing when the fridge is opened.
Video: 1 mnt, color, 16:9, stereo
Installation: fridge, drinks, reed, wood, jute, straw, paintings, bench, crates, carpet, monitor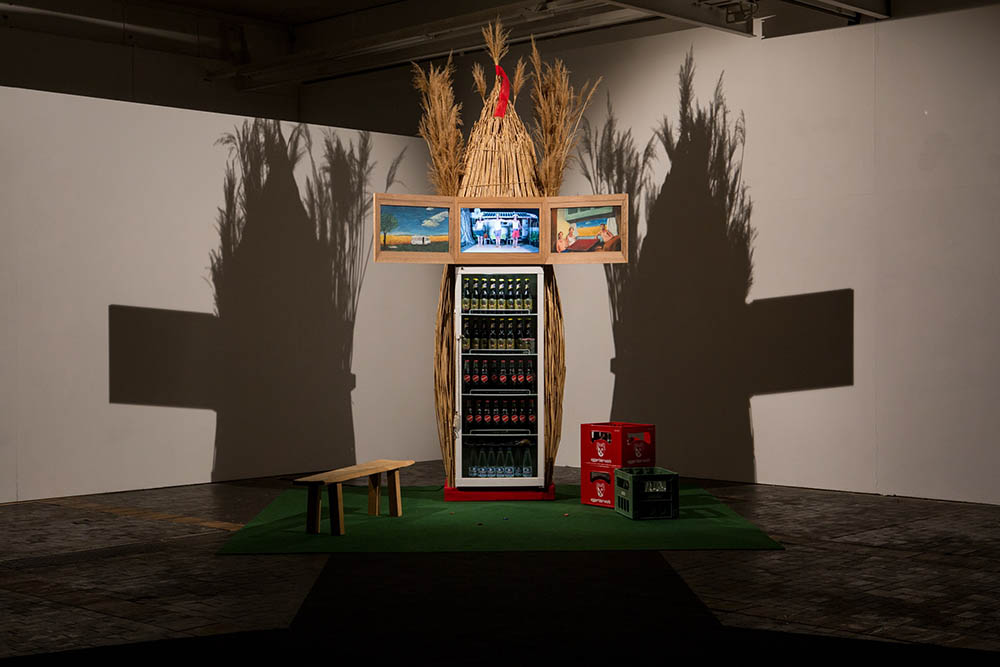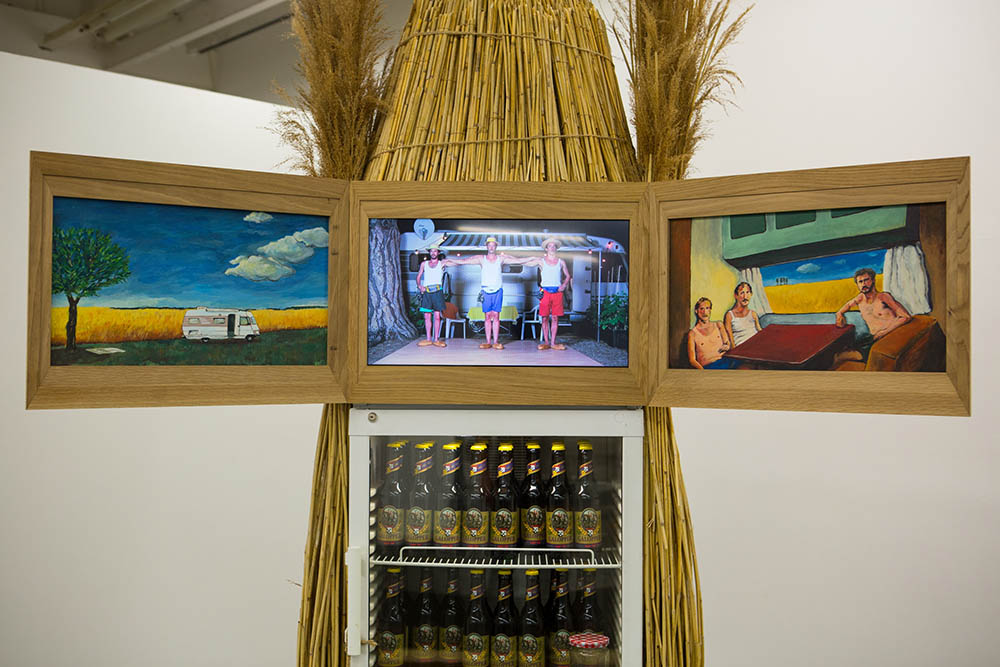 The Enlightened
Three men on a big yacht have the attire of the rich and the shaved heads of monks. Within their world of unlimited possession, they are in search of the ultimate immaterial experience.

Six sunbeds on a wooden floor surround a hanging projection screen which can be viewed from both sides.

Video: 13 mnts, color, 16:9, multichannel audio
Installation: wood, sun beds, pillows, projection screen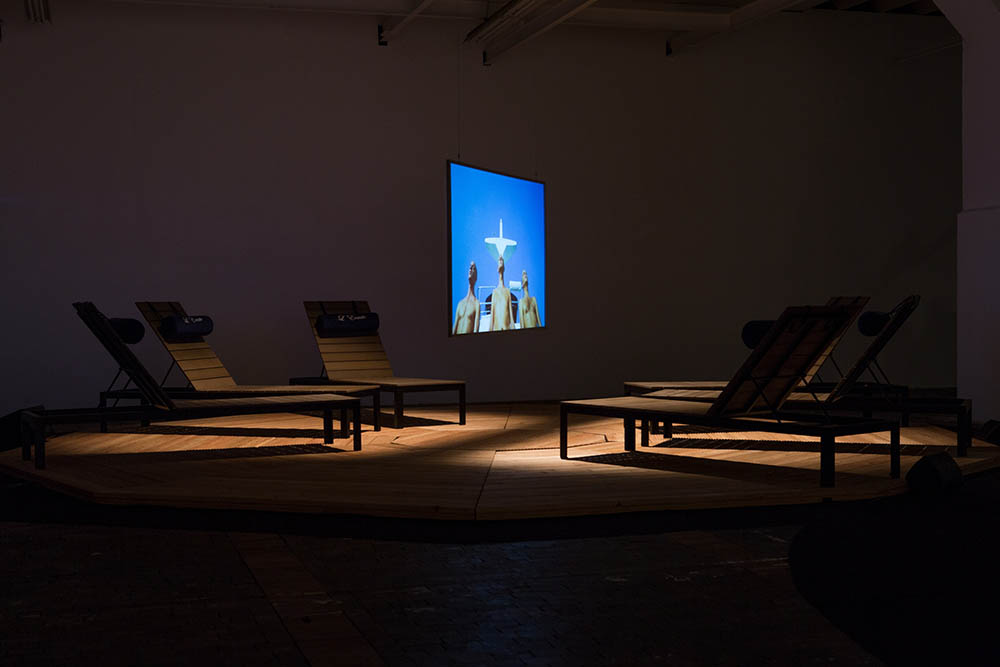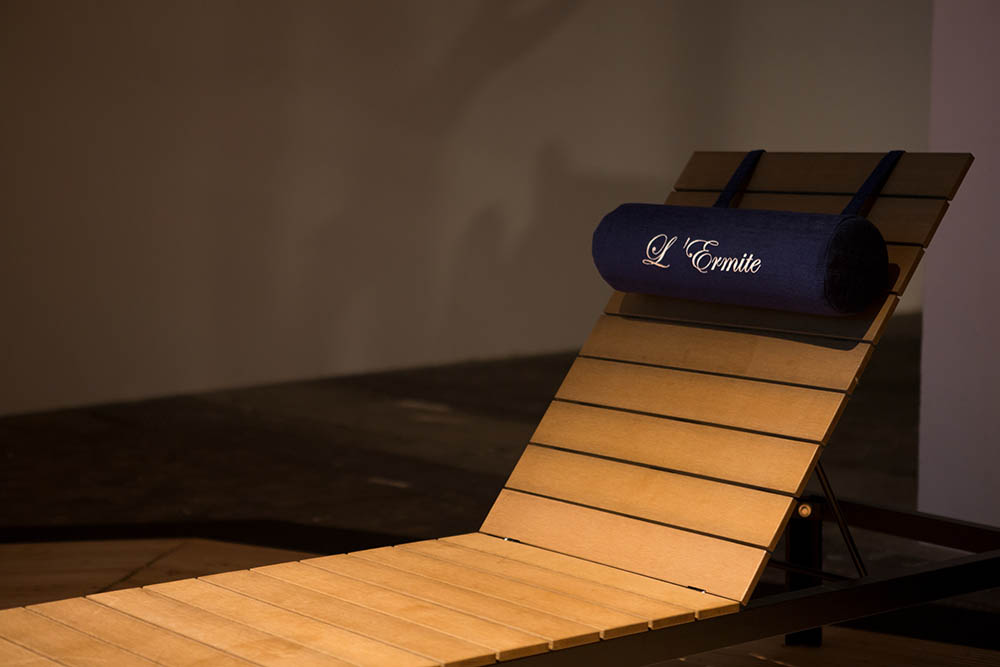 The Martyrs
These tourists are searching for sensation and are tormenting themselves. They are exhausting their bodies and confronting their minds with the danger of death.

A collection of photographs, sports hardware and up to three small monitors.

Video: 9 mnts, color, 16:9, stereo
Installation: wood, monitor, picture prints, sports hardware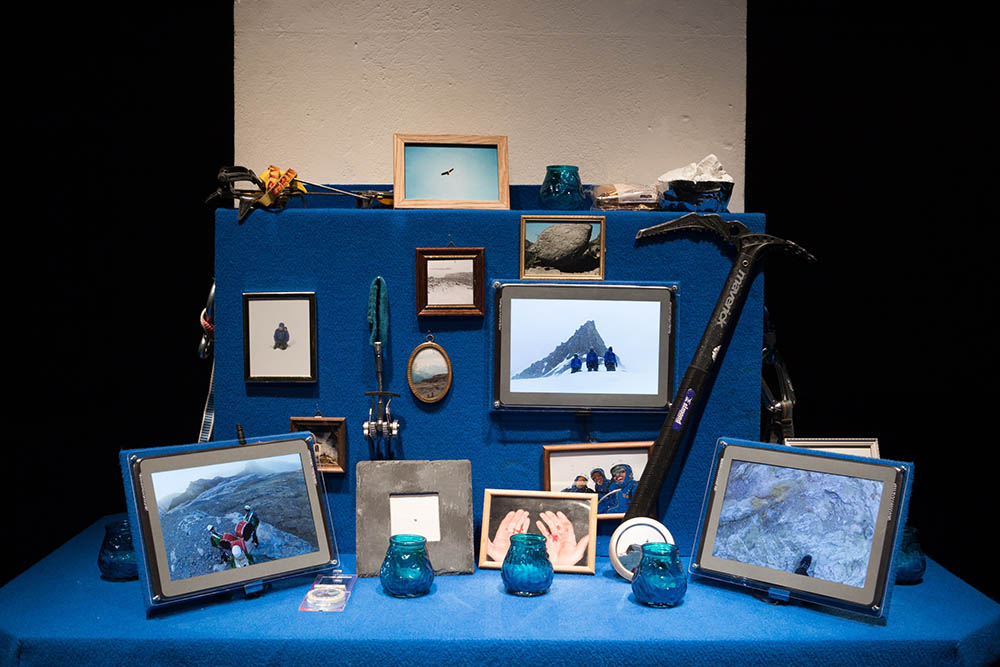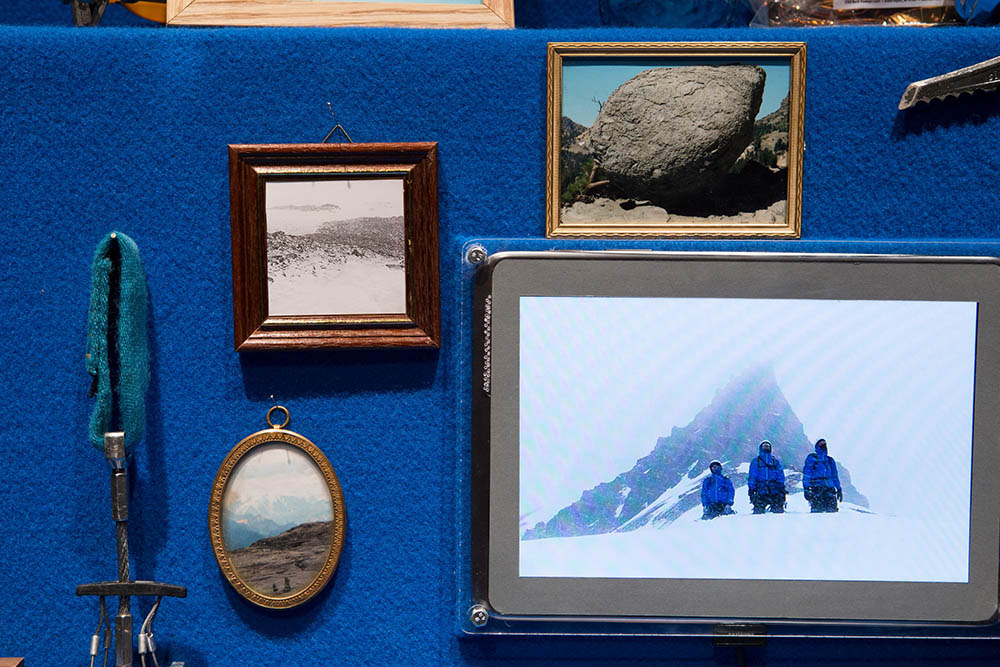 The Devoted
Three men in wheelchairs are sunk into a meditative worshipping of monumental sites. They are devoted tourists, in search of repentance and salvation.

A 240cm tall projection screen stands upright in a wishing well.
Video: 17 mnts, color, 1:2,4, multichannel audio
Installation: steel water basin, acrylic projection screen, coins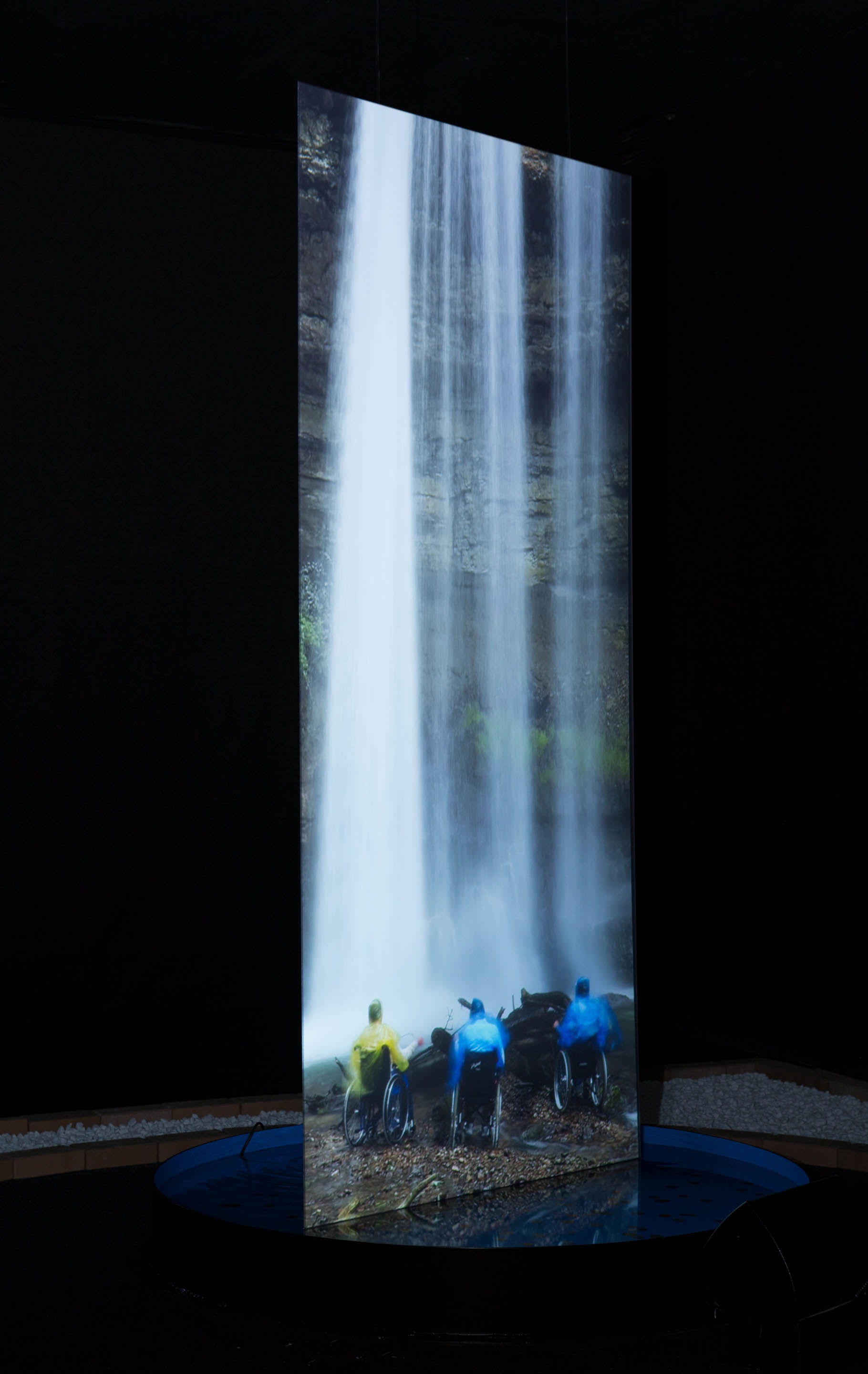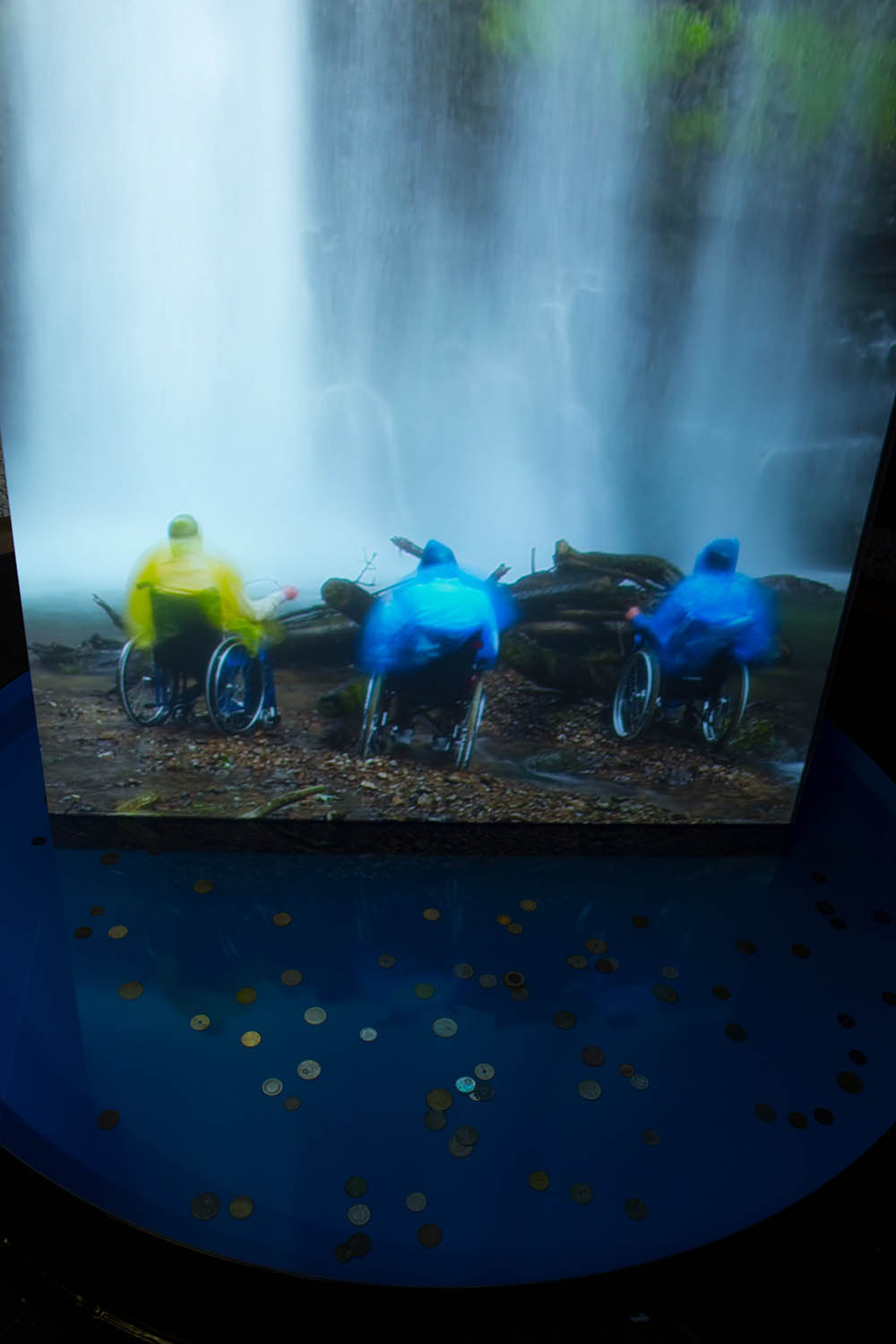 The Idealists
Three backpackers are hanging out and jamming on their instruments.

The mobile installation, standing on a pallet, entirely runs on a battery.
Video: 14 mnts, color, 4:3, mono
Installation: pallet, wood, plastic, rope, backpack materials, monitor, battery, transformer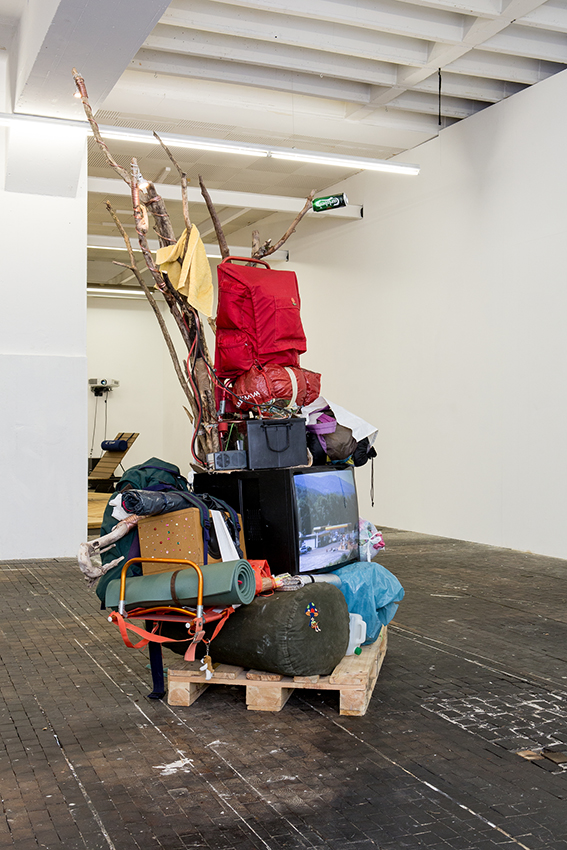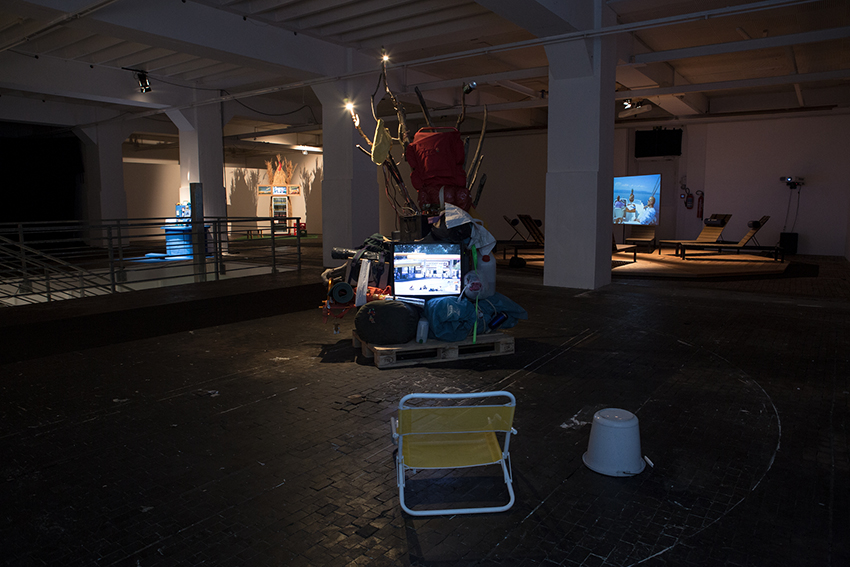 Press
Text by Cécile Simonet

Happyland sounds like a place where dreams come true, of paradise found rather than lost. A place where words like sadness, stress or worry leave bewildered and have no meaning. Cloud nine for each and every one of us, be it blue skies, free parking, friendly strangers or delicious food, a state of pure and delightful bliss surrounds all. Like Utopia, a place too good to be true, perhaps even too good to be good, and in any case a far cry away from daily life in the real world.

So if we obviously can't live 365 days a year in a dreamland, all we might have left is our annual escape, quite often referred to as « the summer holidays ». A true break in the daily grind, the perspective in itself offers comfort, while fantasizing about it allows for a slew of preliminary getaways. Some like it exotic, others homey, outdoorsy, lazy on the beachy, authentic or glamourous. For many this break is cause for much planning and

booking while for others it must be spurr of the moment, regardless of personal preferences, this break will unanimously bring pleasure and fulfillment.

Whether you swear by July or trust in August, the true question lies elsewhere, in what type of traveller you are. Happyland wants to feel like an amusement park, in which each stand mirrors the visitor's inner vacationer. Along these different paths to happiness, the tourist figure uncannily begins to resemble that of the pilgrim. The trip takes a turn towards the mystical, in search of the sacred, a deep quest for existential realization. The Martyrs, the Devoted, the Folklorists, the Enlightened and the Idealists are the five categories of tourists identified and depicted by the Authentic boys through filmed sequences. Conceived as a fun park, Happyland stages these five groups within theme specific installations.

Performers and visual artists, the Authentic Boys skillfully portray their fellow human beings. Sober scenery and a few well chosen elements of decor surround still shot videos,
helping to reveal the essence of each tourist group. Shaved heads, unbuttoned shirts, torsos tanned and shiny or raw and sunburnt, on mountain tops or riding the ripples of pristine blue waters, the Boys caricature without ostentation. A sociological analysis ? Though they might recall August Sander's work, they staged themselves in each video. A touch of goodhumoured teasing can clearly be sensed while their ever serious expressions tend to flirt with playful mutiny. A bit ironic ? Perhaps, but without the bitterness of sarcasm or the contempt of mockery. Because the characters they play give off the vibes of true comics, accompanied by a soft and evocative soundtrack… or because it just might take one to know one. So, which happylander inhabits you ?
RTS (Swiss national TV) - 12 July 2014 - French with English subtitles
Journal Culture (Geneva local TV) - 30 June 2014 - French
WRS radio interview - 19 June 2014 - English
Espace 2 radio review - 24 June 2014 - French
CV
Authentic Boys is an international collective of artists: the performers Gregory Stauffer and Johannes Dullin (Geneva/Bern) and the filmmakers Boris van Hoof and Aaike Stuart (Rotterdam/Berlin). The group has been working with the interconnections between film, the visual arts and performance since 2007. The most varied of works were created in this period. All of them are based on an intuitive, humorous approach to the direct surroundings, for example: performances (Natural Fiction Circus), video works (Idiophone), short films (In Character, Bad Luck City, Threesome), video installations (Happyland), photo series (Rehearsing Revolution) and happenings (Go Home). Their works can be seen in theaters, art spaces and at film festivals.

WORKS

HAPPYLAND (2014)
Video installation on tourists and pilgrims. Five videos, each integrated in a spacial installation.

REHEARSING REVOLUTION (2011 - 2014)
Photographs and video with youths from Rotterdam, Nyon and Birmingham. Created within the framework of performance workshops.

DOWN TO THE ESSENCE (2013)
Short film made on request by and during the Int. Short Film Festival Winterthur. (Video - 12 mnts)

BAD LUCK CITY (2012)
A musical short film following an urban cowboy on his city stroll. (Super8 – 10 mnts)

HOLIDAYS IN GENEVA (2011)
Musical postcards of the city Geneva, made during a one week residency. (Video – 9 mnts)


GO HOME (2010)
Performance with 16 actors pointing on political (anti-) campaigning. (Performance – 6 hrs)

THREESOME (2010)
A short film exploring the phenomenon of pornography. (Video – 10 mnts)

DIALOGE (2009)
A modern pilgrimage road movie of two men in existential dialogue (Video – 20 mnts)

IN CHARACTER (2008)
A man finding his part in the scripts of everyday city life. (Video – 23 mnts)

IDIOPHONE (2007)
An obsessive and hypnotic video loop showing two moving bodies (Video – 4 mnts)

WORKSHOPS / TEACHING / TALKS (Selection)

REHEARSING REVOLUTION (2011 - 2014)
Performance workshops with ca. 2000 high school pupils in TENT gallery, Rotterdam (NL), at Far Festival Nyon (CH) and Fierce Festival Birmingham (UK).

ARTIST IN RESIDENCY AT THE AMSTERDAM SCHOOL OF THE ARTS (2013-2014)
A series of workshops and presentations in Amsterdam (NL) leading to a performance with the students in March 2014.

AUTHENTIC BOYS SUMMER CAMP (2013)
A one week performative initiation summer camp in Tenero (CH), for and with the new master students of the Swiss theater schools.

MEMORIES OF AFRICA (2012)
Performance workshop series at Willem de Kooning Academy, Rotterdam (NL).

NATURAL FICTION CIRCUS (2009)
Video project with a group of Norwegian actors with developmental disabilitiies (NO).

Authentic Boys works have been part of these exhibitions:

Gang Bang Forest, Komplot (Brussels) in Belgium; Moving Images, Fotograf Studio (Prague) in Czeck Republic; We Suisse/So Swiss, Centre d'art (Besançon) in France; To all tomorrows parties, TENT (Rotterdam), Face Off, Atelier Tarwewijk (Rotterdam), Kunstplaats (Hoek van Holland) in The Netherlands; Internationell Konst Film Utställning IKFU (Jönköping) in Sweden; Artisto Touriste, LAPS (Geneva) in Switzerland; Parsons Hall Project Space (Holyoke), Video Dumbo (New York) in USA.


Solo-exhibitions:

Rehearsing Revolution, Midlands Art Center, Birmingham (2014):
Happyland, Batiment d'Art Contemporain, Geneva (2014)
Hanging out in Time and Space, Theaterdiscounter Berlin, Podium Oslo, Tou Scene Stavanger, Het Wilde Weten Rotterdam (2009-2010)



Authentic Boys film works have been screened at (among others):

Regard - Int. Short Film Festival (Quebec) in Canada; Int. Film Festival (Aubagne), Bandits-mages Festival (Bourges) in France; European Media Art Festival (Osnabrück), Achtung Berlin and Shortcutz Berlin (Berlin), Regensburger Kurzfilmtage (Regensburg), Flensburger Kurzfilmtage (Flensburg), Kasseler Dokumentarfilm- und Videofest (Kassel) in Germany; Aesthetica - Short Film Festival (York) in Great Britain; Cinefest - Int. Film Festival (Miskolc) in Hungary; CinemadaMare (San Potito), Elita (Milano) in Italy; 2ANNAS - Int. Short Film Festival (Riga) in Latvia; International Film Festival Rotterdam and Motel Mozaique (Rotterdam), IMPAKT Festival (Utrecht) and International Short Film Festival Breda (Breda) in The Netherlands; Meetings in Siberia (Novosibirsk), Message to Man - Int. Film Festival (Saint Petersburg) in Russia; Videomedeja - Int. Video Festival (Novi Sad) in Serbia; Screendance - Basel Film Festival (Basel), Lausanne Underground Film & Music Festival (Lausanne), Far Festival (Nyon) and Kurzfilmtage (Winterthur) in Switzerland, The Boonies International (Warren) in USA.



Authentic Boys film works have been awarded as:

Best experimental short film at Shortcutz Berlin (D, 2012) – for "Bad Luck City" 'Promotional award' at Kurzfilmtage Winterthur (CH, 2011) – for "Threesome" Best experimental film at Cinefest Miskolc (HU, 2007) – for "In Character"
CONTACT
Write us at mail@authentic-boys.com

Aaike Stuart (Germany): +49 162 939 77 15
Gregory Stauffer (Switzerland): +41 76 616 77 10
Boris van Hoof (Netherlands): +31 6 233 838 08

www.authentic-boys.com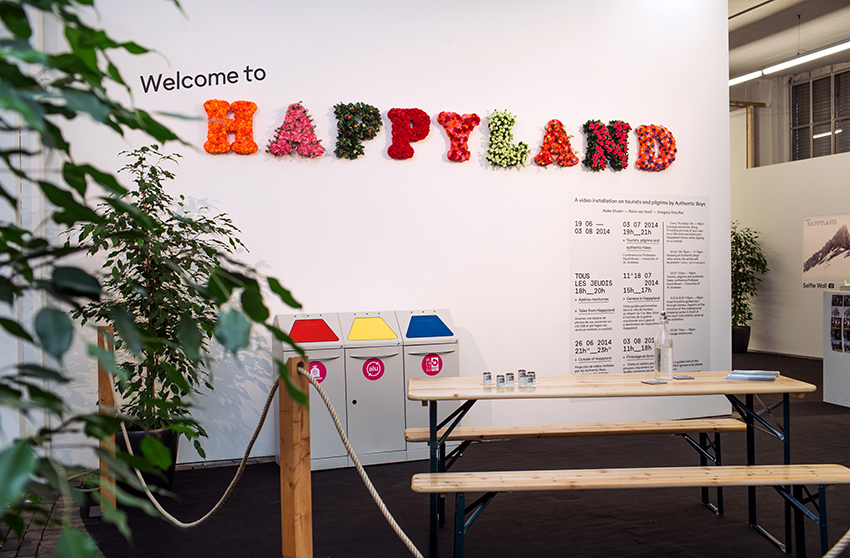 Design and Programming
futurneue.cc